I have finished the bag! I love the bag!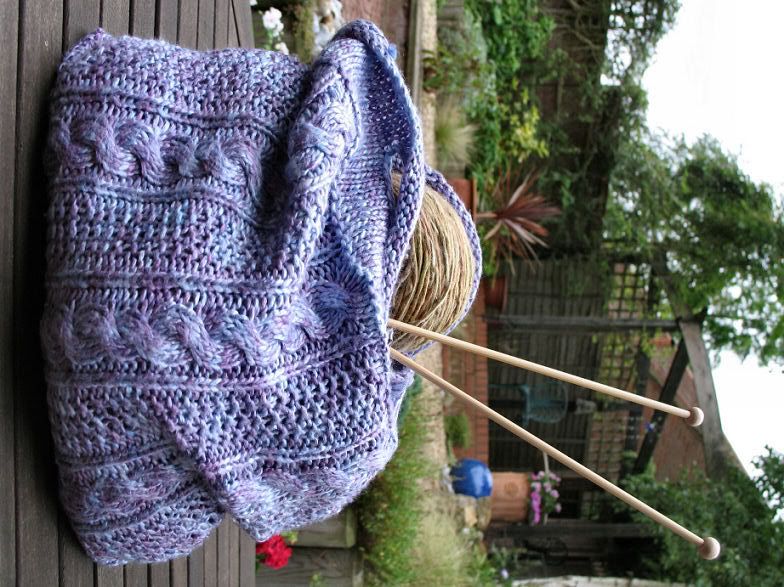 Pattern: Marina from 25 Bags To Knit
Yarn:
HipKnits
silk in Bluebells
The pattern pretty much sucked, what with the front being about 2cm smaller width and lengthwise than the back, resulting in some ferocious blocking. And there's mistakes in the pattern as well. But i am a genius so I can just ignore those and do it properly. Still, LOVE the bag. It will need lining, and maybe something to re-enforce the handles like card or plastic or something. Or i might just keep it as a pet and stroke it.
Yesterday I went to Olney with Sally and Sarah. We shopped, and drank tea, and shopped, and were distraught when we found out the chocolate shop is closing in August. But we made not one, but two trips to
The Knit Tin
so that made up for it. I got myself some brittany birch needles, and something for my SP which I will not mention because she knows who I am now! We also came home and made a mess in the kitchen. Chocolate cake! To make up for the fact that the chocolate shop was closed. Lots of singing along to Take That and Hanson. What? Don't look at me like that. I have fantastic taste in music, thankyouverymuch.
Talking of SP's, another huge thankyou to mine! I had another fantastic package yesterday morning! 4 balls of kid mohair in the most gorgeous green, which seems impossible to photograph for some reason, so i shall leave that to your imagination! Also some 5mm circular bamboo needles, and a Moomins book! Which brough back memories of sitting in the living room with Sally, Tom and *** at 4am, incredibly drunk and half asleep, watching the moomins and generally thinking "what the fuck?". And I still have no clue who she is. I suck at the detective thing!
Now I am jumping on the bandwagon, last night I cast on for the oh-so-famous
Clapotis
. I'm using my hipknits silk in Swamp, which you can see sticking out the top of the bag up there. It is not, however, a full size clapotis. It's a thinner one, more scarf like. So today I shall be knitting that, because I only managed to get to row 11 last night before realising i was about to fall asleep and would probably end up doing something drastically wrong. As well as that, today I will be tidying and cleaning and stuff, because Oli comes home tonight with his friend Nick, only to fly off to Finland tomorrow morning to work for a month in a hospital in a place called Oulu, which makes me laugh whenever I say it. Maybe he'll meet my SP! She lives in Finland, I know that much! No idea if she's anywhere near Oulu though. (Haha...Oulu).