A lot of stuff has been happening recently. A lot of it probably won't get written about here, because this isn't the place for it, but the past couple of weeks have been...interesting. I shall focus on the good stuffs though.
Last weekend I was in London again. Vicky came up here on Friday night, Nicky joined us, and we sat and ate far too much chinese food and laughed and danced and sang and made sex noises to annoy the upstairs neighbour (revenge!). I laughed so much I couldn't even stay upright (not helped by Vicky trying to kneel on my shoulders whilst I was sitting on the kitchen floor) and it was just what I needed. On Saturday Vicky and I wondered around Summer Leys, talking to sheep, climbing on trees and generally enjoying the fact it was sunny and warm. We then got the train down to London. Ice cream was consumed. Tattoos were acquired, but photos shall wait until family have been introduced to them and they've healed.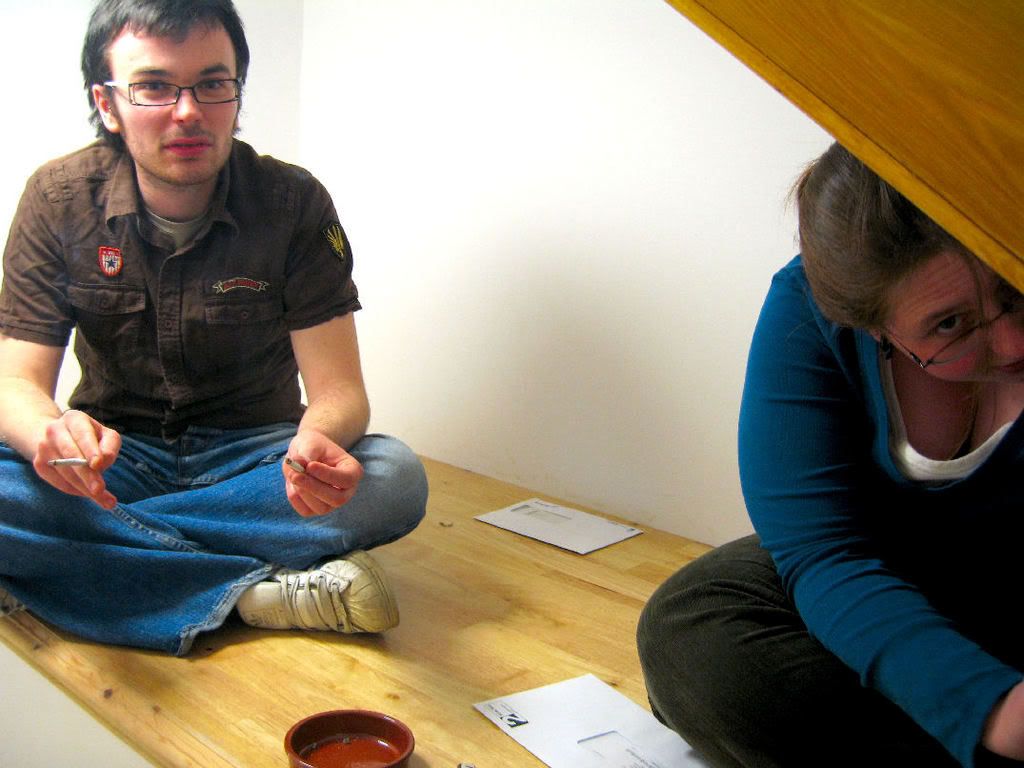 Monday night I was in London again. Nicky and I had managed to get tickets to see Darren Hayes (formerly of Savage Garden) at a very small venue in Soho - The Soho Revue Bar. We weren't impressed. We sat through the incredibly bizzare support act and laughed at the fact Nicky was possibly the straightest person in the room. Nicky also informed me people were staring at me a lot. I seem to have become oblivious to that kind of thing now, and it wasn't until he pointed it out to me that I noticed I was possibly the only pierced and tattooed person there.
Anyway, Darren Hayes was terrible. The sound was appauling, the crowd were all from MySpace (I shall say no more...) and I'm pretty sure he was miming. We walked out after three songs and instead went out for dinner to Bella Italia on Leicester Square. Far more entertaining and far more pleasant. Not an entirely wasted trip to London after all, we still had a good time.
Tuesday I had the day off work, so I didn't have to survive a day on about 4 hours sleep. I went out for lunch with Dad and heard all about his trip to Pakistan. A very enjoyable day, nice and relaxing.
I'm sure more has been happening recently. Well, I know more has been happening but that's the stuff that's not going to be written about here, because I don't want to go over it for the 100th time and still finish with the sentence "I still don't know what's happening, really." because it frustrates me beyond belief.
I have come to the conclusion, as I do most days, that I need to get out of this country ASAP. September is too damn far away. I might start working 7:30am to 5pm every single day so I can have a whole week off and run away. But we all know that's not going to happen. I find it hard enough to find the motivation to do my contracted 7 hours 24 mintes a day at the moment, let alone anything over that.
This weekend will be decidedly boring compared to recent weekends. Overtime on Saturday, followed by a weekend of DVDs and domesticity. How thrilling. I might go and get new passport photos, too. I need to renew mine.