Yesterday was my birthday. Had a fantastic day and am spending today recovering. Achey legs from walking around London all day!
Mum came to see me before she went to work in the morning and gave me yummy presents. A new camera (a
Supersampler!
), paul frank flip flops, a toy rat that looks just like Beans, some gorgeous red roses and a stripey pot to go with my stripey mugs.
I headed down to Londinium and met Vicky in Covent Garden. We went to
Belgo
for mussels and chips. We also had wild boar salami, which was delicious! But not as delicious as the mussels and chips. I also had coconut beer, and have fallen in love. I shall be searching for that stuff now and won't be happy until I've found it!
We searched for Cybercandy. We'd actually walked right past it already on the way to Belgo, but we're stupid and didn't realise, so instead we wondered around for half an hour going "where is it?!" until we stumbled upon it. Then of course we spent lots of money on sugar filled goodness. Oreo cookies, jolly ranchers, peanut butter M&M's and mountain dew. Hmmm.
Then, after a bit more wondering around, we made our way across town to Notting Hill to
The Hummingbird Bakery
in search of the cupcakey goodness. And goodness it was! The best damn cupcakes I've ever had. The journey there took a lot longer than it should have due to the fact Vicky got me a
Quik Pod
for my birthday. Far too much amusement from myspace angle shots, shots from the floor, taking photos over walls/on top of bus shelters, videoing ourselves walking along. So much fun!
After the cupcake goodness we wondered along Portobello Road, got distracted by shiney things a few times, and generally messed about.
A very very fun day. Unfortunately my small digital camera is currently MIA, so I only have this to show you right now, until Vicky gets her photos online...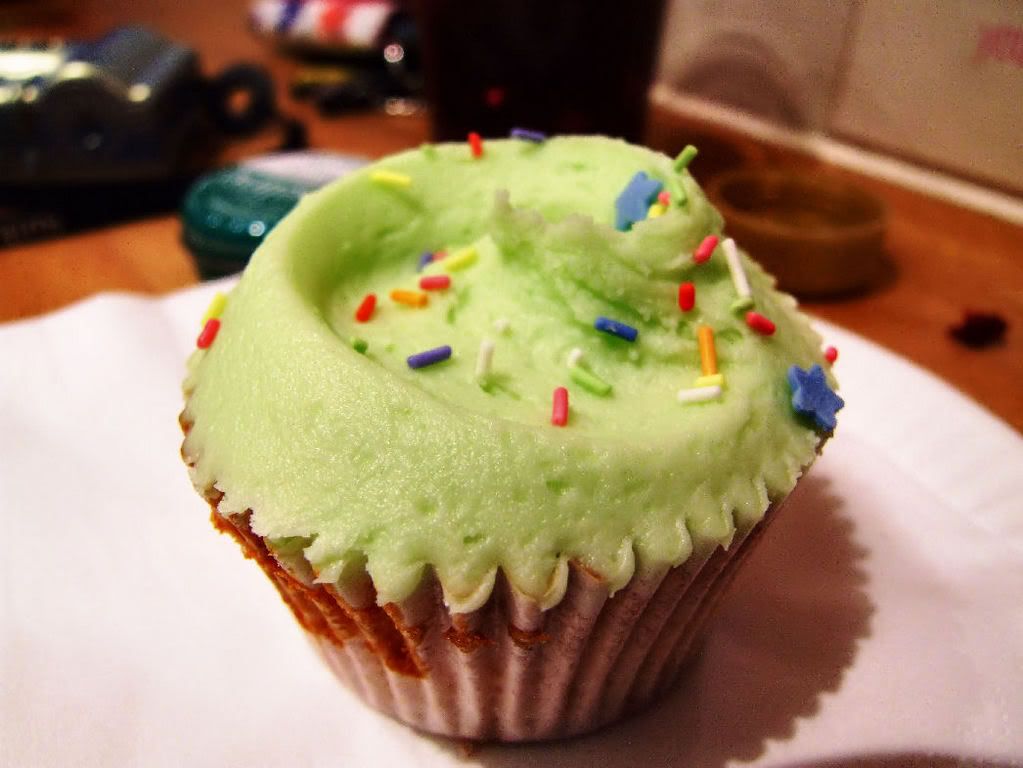 More photos will come when I get the ones from my fisheye and supersampler developed.
Now I'm going to enjoy the fact I don't have to go back to work until Tuesday next week!