Knitting? What is this strange compulsion you speak of? Sticks? String? Making things? How peculiar!
In a moment of madness, I decided to clear out my knitting basket. Not all of my yarn and needles and the like made it when I moved, I do believe a large portion of my stash is hidden away in Mum and Dad's living room - some in the stool, some in the cupboard with the world's smallest door. Whilst clearing out my rather small knitting basket I discovered the following works-in-perpetual-progress (WIPPs): Three unfinished pairs of socks (two suffering from "second sock syndrome", one didn't even get that far), one 1/3 finished jumper - pattern whereabouts unknown, and one baby blanket - current age approximately two years. I started it when I found out my cousin was pregnant with Josh (who was 1 in April) and am still about 4cm from finishing it.
So, I decided I want to knit something again, but I wasn't sure what. Something small and simple to get me back in the swing of things. So, what do I choose? I choose a fourth pair of socks. Cabled socks to be precise, from the Debbit Bill Home book. They shall be knit in a wonderfully soft green alpaca yarn. Blue Sky Alpaca to be precise. I believe it was purchaed at the UKnitty meet up in London, when we went to Loop. That would be about two years ago then.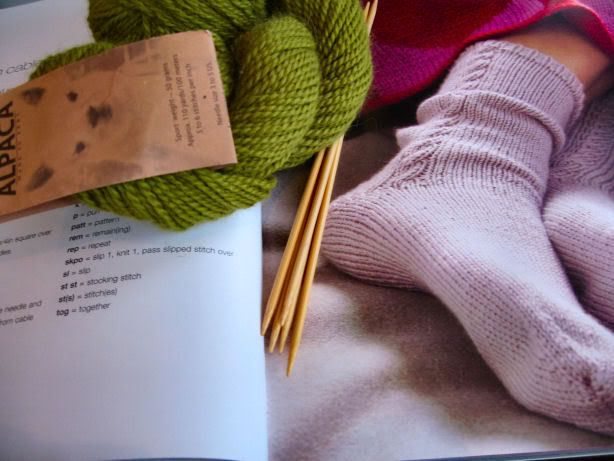 If I ever finish them I may throw a party to celebrate.
In other news, I am cooking roast chicken and my flat smells yummy. It's pissing it down with rain, and I don't want to go back to work tomorrow.